Any other year, 2-year-old Bella Singer would have been heading out of town with her family to spend the holidays with her grandmother. This year, in an effort to respect COVID-19 safety and health restrictions, the Singer family decided to stay home.
Even though the decision to avoid travel was made out of love, Bella and her mother, Husniye, knew it would be hard on her grandmother to spend the holidays alone. So they prepared a package with a card and some of Bella's artwork to cheer her up!
Bella's special holiday package was met with such enthusiasm by her grandmother, that Husniye started thinking about how she and Bella could use the same concept to spread kindness and joy to others during a less than ideal holiday season. 
Once the idea had taken root, all they needed to do was iron out the specifics, like who to send Bella's cards to. With her grandmother in mind, they decided that elderly residents of local senior care facilities would be the perfect recipients. 
Husniye explained, "What better way than to send them (cards) to people that are even more secluded than normal by the virus? Many seniors are spending their holiday season alone and isolated this year due to COVID-19."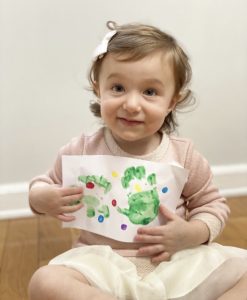 So, Bella and her mother set out on their mission. Bella focused on painting the cards, while Husniye connected with the facilities they would be serving. After all was said and done, Bella had painted hundreds of individual cards for seniors! 
Husniye shared what it was like to watch her daughter become so engaged in the project, stating, "Bella became very focused and deliberate… As she made each card she had a big smile on her face and she had a lot of fun!"
Bella's grandfather was a "prominent tenured full professor of Fine Art at Cornell University," and, according to Husniye, "Bella was inspired by his paintings and lithographs that are hanging in the walls of our house."
Once Bella had finished painting, Husniye wrote sweet little notes on the cards and headed off around town to deliver them, in hopes of "bringing some extra joy to the elderly and brightening their day."
The response that Bella and her mother got from the seniors was heartwarming, reminding them that sometimes it's the little acts of kindness we take that end up making the biggest difference. 
"We received a lot of love and appreciation from the seniors," said Husniye. "And we'll continue making cards for Valentine's Day, Easter, and upcoming holidays."
Thank you, Bella and Husniye for your thoughtfulness and all your hard work. We look forward to seeing what the next round of cards looks like!