Newly married couple Tyler and Melanie Tapajna had to cancel their wedding reception in order to abide by COVID-19 restrictions. Fortunately, these two lovebirds knew how to turn a tough situation into something beautiful! Instead of letting all their planning go to waste, the Ohio couple decided to donate their catered food to Laura's Home Women's Crisis Center.
Laura's Home is part of The City Mission, an Ohio non-profit aimed towards helping vulnerable populations in the community get back on their feet. The 'Laura's Home' branch works specifically to provide support and safety for women and children as they work to restore their lives and "break the cycle of poverty."
The Tapajnas made the difficult decision to cancel their wedding reception in an attempt to ensure the safety of their friends and family during these uncertain times. Rather safe than sorry, Melanie told CBS News, "We did not want to risk anything."
When the couple reached out to the venue where their wedding reception was to be held, they were told that they would receive a complete refund. Instead of accepting their money back for the food they had ordered, the Tapajnas made the decision to donate it instead. 
Melanie and Tyler tied the knot on August 15th, after which they went directly to Laura's Home to begin distributing their wedding feast. The newlyweds even helped serve food to residents, still in full dress and tux!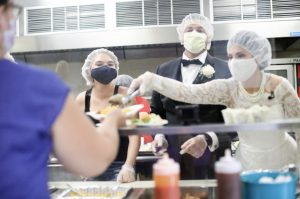 CEO of The City Mission, Rich Trickel told CBS News, "It's not unusual for us to have volunteers serving meals in our building… but certainly this was not common and it caused quite a stir." He went on to recall one particular moment that stood out, stating, "I remember a mom and her two little daughters coming up in the line, and the two little girls standing on their tiptoes to get a better glimpse of the bride in her wedding dress."
After everything was said and done, about 100 meals were provided to the mothers and children of Laura's Home. But this was nothing in comparison to the countless hearts that were touched by their act of kindness. 
Thousands of couples have faced obstacles and disappointments planning their weddings as a result of health concerns associated with COVID-19. The selflessness of the Tapajnas, despite unfortunate circumstances, is truly inspiring. Reading their story gave us the uplift we needed this week, reminding us to get outside of ourselves and look for ways to support each other. The world needs our kindness, now more than ever.