As the protests continue in Minneapolis and across the nation, many Americans have been looking for ways to lend a hand. NFL player Ron Johnson's 9-year-old daughter, Kamryn Johnson is one of these helpers. Learning of her dedication to kindness and service warmed our hearts so we thought it was only fair to share her story with all of you!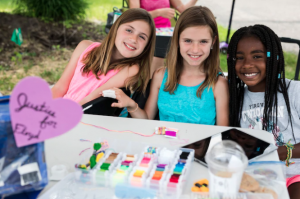 Kamryn had been quarantining with five of her neighborhood friends during the Coronavirus pandemic when she noticed her community's need for support. Consequently, Kamryn and her friends jumped into action and started making bracelets out of string to sell, donating all proceeds to organizations that are giving back to the local Minneapolis community. They named their project Kamryn & Friends: Bracelets for Unity and Justice.
The girls started their initiative on May 30th and word spread quickly around the neighborhood. Their bracelets varied between $1 and $5 in price, but many people donated more to show support for their cause.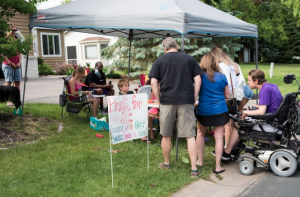 "People are giving $10, $20, $50," Kamryn's father, Ron Johnson told The Washington Post. "One man pulled up out of nowhere and dropped off a $100 bill for one bracelet. A few people have done that."
Since that first day, 'Kamryn & Friends: Bracelets for Unity and Justice' have been flooded with donations offered in person, as well as through online accounts like Venmo and GoFundMe. In just one week the girls were able to raise approximately $40,000 in funds to give back to the community in the wake of the recent pandemic and protests. 
In describing the impact of Kamryn's project, her father told The Washington Post, "It's become bigger than just Kamryn, it's the whole neighborhood and community."  People were so excited to be a part of it that, as demand for bracelets increased, neighbors and friends got busy with the girls and helped lighten the load. Johnson went on to state, "Kamryn is leading the charge, and we are all right behind her."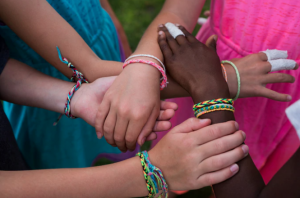 The inspiration that has spread as a result of Kamryn's kindness is palpable and the Johnson family doesn't plan to stop momentum anytime soon. In fact, Johnson hopes that interest in the project continues beyond the initial week of fundraising, hoping that it will offer the light of kindness during difficult times. 
"Every day you are on this earth, it is your job to pass on as much love and empathy as you can," Johnson explained to The Washington Post. "Our daughter has reminded us of that."