Thanksgiving is just around the corner! Here at City of Kindness we love all holidays, but Thanksgiving holds a special place in our hearts. We have so much to be grateful for. It feels good to take intentional time to recognize all the beauty in our lives and show our gratitude by giving back. 
Be it by offering time, money, skills, or support, there are so many fun and festive ways to get in the spirit of giving and spread kindness this Thanksgiving. And while we have seen some truly wonderful acts of generosity already this year, there's one in particular that we wanted to highlight for this week's kindness spotlight!
Kindness in all its forms is so needed and necessary, it deserves to be amplified. But there's something extra special about seeing the selfless kindness initiatives of our youth. And Jayden Perez's story is no exception.
Ambassador for Giving Tuesday and CEO and founder of his very own non-profit, From The Bottom of My Heart, Jayden is no stranger to spreading kindness. In fact, he has made kindness his mission and motivation in all aspects of his life. A quick scroll through his Instagram feed will show the countless ways this boy has impacted the lives of others. A visit to his non-profit's website will only strengthen your belief in this young man's determination to make the world a kinder place. 
From The Bottom of My Heart
Jayden created From The Bottom of My Heart to "provide toys, clothes, food and necessities to children, families, front line workers and pets around the world affected by hurricanes, the pandemic, or living in shelters." His mission goes on to state, "We serve individuals and families and the community in a time of need. Our goal is to inspire and make a difference in many lives. To alleviate human suffering by bringing a smile and joy through the difficult times."
And what a time to offer this kind of support! Of all the recent years, 2020 might just need it the most. This year alone, Jayden has done everything from boosting community morale by starting kindness campaigns in his local communities to fundraising and donating supplies to the homeless, all the way to handing out hand sanitizers and handmade masks to those in need. So, of course, the young philanthropist had something special planned for Thanksgiving!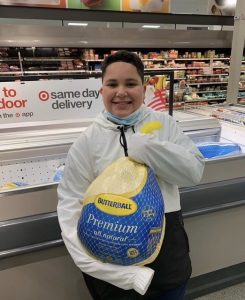 While the holidays of 2020 might be facing some logistical challenges due to COVID-19, Jayden is determined to make a kindness impact wherever he can. And what's more important for celebrating Thanksgiving properly than a turkey dinner? With this in mind, Jayden has decided to donate 5 turkeys to Eva's Village, a non-profit that offers "20+ programs for food, housing, treatment, recovery, and education" to vulnerable populations. Considering the financial impact COVID-19 has had on countless families nationwide, Jayden decided to take his kindness a step further, donating five more turkeys to five families in need.
We love Jayden's idea because it's simple, reminding us that each and every one of us is capable of having an impact. We don't need thousands of dollars or giant platforms to make a difference in people's lives. All we really need is thoughtfulness, compassion, a little motivation, and a kind heart. Thank you, Jayden, for all the kindness you continue to spread in the world! And a happy Thanksgiving to everyone!