Financial issues have long been a social issue in the U.S. Struggling to put food on the table has been a daily struggle for far too many families across the country. Those living in major cities are even more vulnerable, as a higher cost of living compounds with depleted resources due to larger populations requiring aid. Considering the additional financial implications of recent issues like the coronavirus, issues of food scarcity and hunger have increased drastically. For these reasons, we couldn't be happier to see community fridges popping up all over Los Angeles to help feed those in need. 
Los Angeles Community Fridges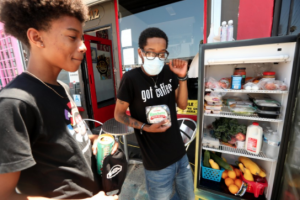 According to the Los Angeles Times, Los Angeles Community Fridges is a mutual aid network that has recently been growing quickly, resulting in quite a few fridges sprouting up across the city, including Highland Park, Arlington Heights, Long Beach, South L.A., and Mid-City. The organization "assists in setting up community-run, free-food fridges across the city, and offers resources and tips for people to do so themselves." Presently, there are over 60 organizers working together to run the Los Angeles Community Fridges network. Together, they support businesses and individuals alike that have offered to host and maintain a fridge at their locations.
The Los Angeles Times elaborated on the organization's mission of kindness, stating that, "Inspired by similar efforts in New York City, including by the activist collective A New World in Our Hearts, the idea is to empower communities, feed people, and eliminate food waste."
Taking Community Kindness to the Next Level
While many traditional options exist for food assistance, the concept of community fridges takes community kindness to the next level by putting the power back in the hands of the people. Individuals seeking support through these resources can stay anonymous. There are no forms to complete and no limits on how much or how often food can be taken. The fridges are kept fully stocked at all times and operate on a "take what you need, leave what you don't" system.
This framework seeks to bypass the many reasons why people that need help often don't seek it, such as issues of immigration status, for example. Promoting anonymity allows for individuals to obtain the aid they need without putting themselves and/or their families at risk. 
Additionally, many of those requiring food aid avoid reaching out due to personal and/or cultural issues of pride and dignity. The concept of community fridges circumvents this issue, maintaining that the initiative is one of mutual aid, not charity. Ian Cohen, an organizer within the network told the Los Angeles Times, "Mutual aid emphasizes this is from the community." He went on to explain, "We aren't gifting anything. We're just putting resources where they need to go because those resources are available. The issue is just getting them efficiently distributed."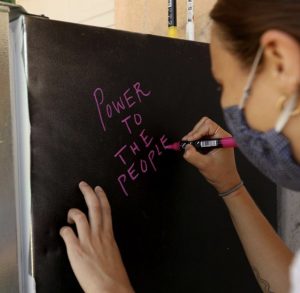 Most of the refrigerators themselves are collected for free off of Craigslist. Much of the food has been provided by grocery stores, restaurants, food pantries, and even the gardens of local residents. Upon landing on location, organizers work together to paint the fridges and leave the necessary instructions, letting those in need know that the food is free for the taking.
Communities Band Together to Offer Support
After so many L.A. residents lost their jobs as a result of the coronavirus, financial insecurity in the area has been skyrocketing. Luckily, the people of L.A. have been experiencing a simultaneous spirit of giving and helping as of late. With so much civil unrest, it has been beautiful to see communities band together to support one another through these difficult times. The recent increase in community fridges and individuals seeking involvement in the organization is just one of the many manifestations of the city's collective kindness. Thank you to all that have been and continue to be involved in this wonderful initiative!