It's no secret that the coronavirus has led to tough times for both hospital patients and workers alike. So many of us want to offer a helping hand but find ourselves overwhelmed, wondering where to begin. However, 12-year-old Jason Zgonc simplified things when he committed himself to a nightly concert for patients and healthcare workers at Emory Hospital in Decatur, Georgia, reminding us that kindness and service don't have to be complicated or expensive to make an incredible impact.
COVID-19 related school closures had provided Jason with more time to focus on his music and he was motivated to find a way that he could use this passion to give back to frontline workers. Inspired by a post on Instagram highlighting the New York Philharmonic musician, Ethan Bensdorf, playing music for healthcare workers in the evenings from his rooftop apartment, Jason decided to perform his own mini-concerts for his local hospital.
Faced with the reality that many hospital workers are working 12-hour shifts to meet COVID-19 demands, Jason schedules his mini-concerts to take place during their shift changes, offering workers a moment of peace amid the chaos.
Jason's commitment has not gone unnoticed. In fact, he's got quite a few fans that are dedicated to showing up for his nightly performances. Hospital worker, Robert Westmoreland, shared his enthusiasm in an interview with 11 Alive, stating, "It's the little kick! It's like a vitamin, a boost… We have something called the Spirit of Emory here, and Jason is an extension of that, that good, hearty energy that you can do it. That's Jason."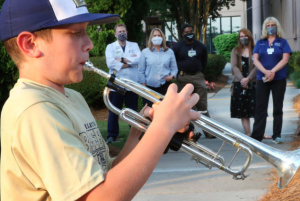 Vice President for patient care services and Chief Nursing Officer at Emory Decatur Hospital, Bob Dent, told AJC Atlanta News Now, "I started getting texts from staff saying how much they are enjoying it. He is very talented… He is bringing a moment of serenity to the staff."
Since his first mini-concert, Jason has received requests to play his music at specific times to ensure more staff have the opportunity to hear his music. Supporters of his initiative have even started using the hashtag #jasonplaystrumpet on Instagram to spread the news!
When AJC Atlanta News Now asked Jason about his experience performing for Emory Decatur Hospital, he explained, "It feels good to make people happy with something I feel like I'm good at."
Jason continues to pay the hospital consistent visits, sharing his music and kindness with all that care to listen, playing numbers including "Over the Rainbow" and "My Country Tis of Thee." His commitment to kindness is a respite for the weary and a guiding light through these difficult times. A big thank you to Jason for taking the time to make a difference!