You may be familiar with former 'The Bachelor' star, Ben Higgins. Initially known for his time spent on the television show, Higgins is building a new legacy motivated by a simple mission: the spreading of kindness through a movement of generosity. It was through that lens that Generous Coffee was created, a 'for purpose' company that invests "100% of profits into life-changing work done by non-profits," (Source). More specifically, the Generous movement is "creating jobs for parents, feeding children, helping to improve education, and helping to create a world we all want to live in," (Source). 
Generous Beginnings
After a trip to Honduras with Riley Fuller, President of the 'Humanity and Hope' nonprofit organization, Higgins was hit with an unsettling question. He was excited to witness the positive impact Fuller's work with the nonprofit was having on the local community in Honduras.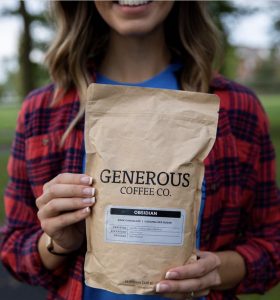 However, knowing the nature of such organizations and their reliance on funding, Higgins and Fuller were faced with a nervous thought… What if funding for 'Humanity and Hope' suddenly ended and with it, their ability to maintain their efforts in Honduras?
And so sparked the idea for Generous Coffee. A for-profit company that would leverage capitalism to promote kindness by ensuring sustainable funding for nonprofits. While 'Humanity and Hope' has been the primary beneficiary of Generous, the team "knew that they wanted to partner with people and communities where lives could actually be changed," (Source).
A Generous Collaboration
Since their beginnings, Generous has stayed true to their vision, teaming up with countless businesses, organizations and communities to collaborate on campaigns that spread kindness throughout the world. One of their more recent collaborations was with Sackcloth & Ashes; another purpose driven company that keeps generosity and kindness woven through the fabric of their business model.
Sackcloth & Ashes
When founder Bob Dalton saw "his mother, a hard-working single mother… living on the streets in 2013," he was inspired to create Sackcloth & Ashes, (Source). After reaching out to local homeless shelters, Dalton learned that blankets were the most sought after donation item. It was with this knowledge that Dalton built Sackcloth & Ashes, a business selling a promise: each blanket purchased donates a blanket to your local homeless shelter, with a goal of donating one million blankets by 2024.
A Partnership to Benefit the Los Angeles Mission
Generous Coffee and Sackcloth & Ashes recently partnered to run a campaign benefiting the Los Angeles Mission, just in time for the holidays! In addition to the standard Sackcloth & Ashes blanket donation, this partnership allowed for 25% of proceeds AND a second blanket per purchase to be donated to the Los Angeles Mission. If that wasn't exciting enough, each customer would receive a complimentary bag of Generous Coffee for the duration of the campaign!
Higgins expressed his excitement after the campaign, stating, "We are better together than we are apart. When two companies focused on fighting injustices facing humans come together the impact will be extraordinary. This campaign was an example of this. It is incredible to see the compassion and love shared through the mutual partnership of Sackcloth and Ashes and Generous!"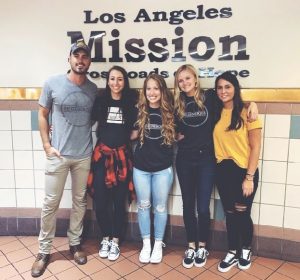 Los Angeles Mission Blanket Drop
On November 18, the Generous Coffee and Sackcloth & Ashes teams joined Higgins and Dalton to kick off this year's holiday season with a trip to the LA Mission to complete the campaign blanket drop. The event was heartwarming and inspiring. Proof, that small acts, when done by many, can have an overwhelmingly kind impact. Thanks Higgins and Dalton, for your commitment to a kinder world!