Kindness comes in many forms. One of our favorites is inclusion. The world is full of all kinds of different people. Everyone has different backgrounds, different stories, and different struggles. While this is one of the things that makes life so beautiful, it can leave some feeling isolated and alone. Knowing that there are others who have walked in similar shoes and can relate to us can make all the difference.
In recent years specifically, advertisements have made a conscious effort to promote diversity. Embracing people's differences and ensuring equal representation has supported a growing culture of inclusion, and we couldn't be more grateful. Still, the representation of people with disabilities has been lacking. For this reason, we were so happy to stumble upon Ollie's story.
Ollie's Story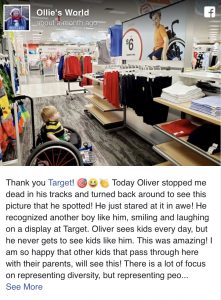 Ollie is a young boy who has Caudal Regression Syndrome, a condition that impacts spine growth and organ function. Recently, Ollie was with his mother shopping at Target when he spotted an advertisement that caught his attention. This particular ad featured a boy in a wheelchair. 
On a post on the Ollie's World Facebook page, Ollie's mom stated, "He just stared at it in awe! He recognized another boy like him, smiling and laughing on a display at Target. Oliver sees kids every day, but he never gets to see kids like him. This was amazing!"
The Impact of Inclusion
It's stories like these that remind us of what an impact inclusion can have on people. Everyone deserves to feel a part of. This is especially true for children struggling with things that make them feel different from others. We are so impressionable at a young age. Real tangible, daily reminders that we are not alone, and that there are others like us can make all the difference. 
A big thank you to Target for leading by example and making kindness and inclusion a priority!