Have you heard of scarf-bombing? Neither had we until we stumbled upon a story that's been brewing in Minnesota. Michelle Christensen, a Golden Valley local, came up with the idea of scarf-bombing after noticing a group of artists knitting scarves around trees. The decorations were soon put to use by the homeless community in response to the chill of winter. When the artists realized what had happened, they began knitting gear for the homeless instead, hanging their creations on tree limbs, free for the taking. Inspired by their kindness, Christensen thought "That's a great idea, anyone can do that. I can do that," and started to think up a version of her own.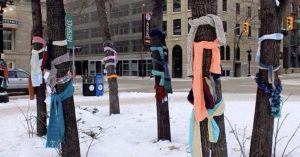 The Scarf-Bombing That Started it All
Christensen organized her first scarf bombing in December 2018. Relying simply on the kindness of others, Christensen reached out to friends and colleagues for support. She explained her plans to warm up the town with free scarves and winter gear and asked for volunteers and donations. Christensen stated, "By late December, I had 40 volunteers and 52 boxes of donations."  By January, One Good Deed was born. 
One Good Deed
Soon, the media heard of Christensen's scarf-bombing plans and reached out to her for an interview. When they asked what her group's name was, Christensen realized that they still didn't have one. It was at that moment that she came up with 'One Good Deed,' a name that would prove more fitting than Christensen realized.
Christensen's scarf-bombing was a massive success. The volunteers were so enthusiastic about the experience that they couldn't wait for the next event. Christensen explained, "They wanted more. More giving, more kindness, more sharing and more love to spread. It was at that moment I knew that One Good Deed needed to become a reality for more than just myself, so I started planning literally one good deed a month for our group to do. No obligations, no expectations, no rules… just pure kindness."
One Good Deed's Growth
In just one year, One Good Deed went from having about 100 volunteers to almost 300. Men, women, couples, retired folk, and children have all sought to lend a kind hand to One Good Deed's mission, with ages ranging between 8 and 84 years old. Additionally, One Good Deed's monthly activities have grown too. While scarf-bombings are still held, according to Christensen, the group has diversified their offerings to include things like "kindness rocks, charity garage sales, backpacks for homeless youth, Earth Day cleanup, plarn (plastic yarn) mats/fleece blankets for the homeless, and volunteer-led booths." 
Get Involved
Getting involved with One Good Deed is simple. Anyone can join the group, so long as you are committed to kindness! Simply reach out on the One Good Deed Facebook page to find out how you can help! In the meantime, Christensen plans to keep organizing activities as long as there is an interest in participating, stating, "I will never say no to kindness. Kindness is one of my personal cornerstones and definitely weighs into each and every decision I make. It is a way of life for me… and I love it."