Power of Flowers Project is a New Hampshire based organization that works with volunteers to "repurpose donated flowers into bouquets and deliver these gifts to provide an unexpected moment of joy and improve the wellbeing of a vulnerable population." 
Power of Flowers founder, Joyce Bellefeuille, started the project in 2009 after deciding she wanted to support seniors and veterans by offering them kindness via bouquets of flowers to help brighten their rooms and bring smiles to their faces. Having been a floral designer herself, Joyce was well aware of how many perfectly good flowers were put to waste, used only for single-use events, and thrown out shortly after. With this in mind, she came up with the idea of reclaiming gently used flowers after having served their purpose at weddings, parties, and the like.
Once the idea was born, all Joyce needed was a team. Luckily, her mission has been met by a passionate group of volunteers that were committed to bringing her dream to life. Together, they have been able to dedicate their time to kindness, "enriching the lives of others by harnessing the proven power of flowers to lift spirits and promote healing."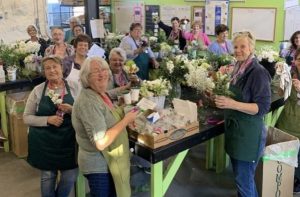 The Power of Flowers Project has been able to make and deliver over 100,000 bouquets, and counting, "to residents of care communities or home-bound seniors to improve their quality of life, to reduce loneliness and depression, and to let them know they are valued." Since 2009, they have worked their way up to a steady pace of 400 weekly deliveries, brightening the lives of seniors and veterans all across Merrimack Valley and Southern New Hampshire.
Learning of the Power of Flowers Project has been heartwarming, to say the least. Living in a culture that puts so much value on youth and productivity, elderly and disabled populations can often fall by the wayside. However, these are the people that need our support the most. Making sure these populations aren't forgotten is important work. Power of Flowers Project has found a way to show up in a wonderfully creative, simple, and sweet way, "by paying a visit, sharing a conversation, and leaving behind the gift of colorful fragrant fresh flowers…"