Students, teachers, and parents alike have been doing their very best to promote a smooth transition into virtual learning. However, the process has had its challenges. One of the many obstacles families have been facing in these regards is in finding a designated learning space for their children. After experiencing these difficulties firsthand, handyman, and father of four, Mitch Couch, decided to build desks for his kids as a means of ensuring they had consistent study stations. He didn't know then, but his idea would soon spark an initiative to bring kindness, support, and resources to many more families in need.
Mitch took to Instagram to share his family's experience with going virtual, stating, "I know many of our little ones are still home doing distant learning. Our two kids were taking up space at the kitchen table making it a hassle when it came time for meals. So I made them their little desks. The cool thing is they can store their items in it after they are done and it can be folded away later to take up less space."
Recognizing that other families might care to try similar solutions, Mitch posted instructions outlining his D.I.Y. desk project on his Etsy Shop. Soon after, the Grocery Outlet reached out to him in hopes that he might use his skills to make more desks for kids and families in need. 
In an interview with The Dad, Mitch explained, "They were so kind to buy all of the materials and I built them. It started at 25 desks but we ended up doing 35 because the need was so great."
The initiative was coined 'Project Desk' and, according to The Dad, it soon "turned into a family affair." Mitch went on to share about his family's enthusiasm and teamwork, stating "They actually came out and helped me build. They did most of the sanding and helping me load and unload the desks."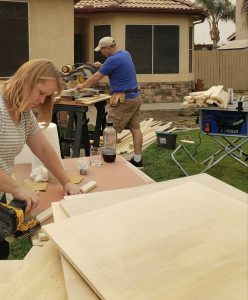 Not only did the project provide Mitch and his family the opportunity to bond and give back to their community, but it also gave his children the chance to experience the impact of kindness. And that impact was felt even more deeply upon hearing the response of those who benefitted from their hard work. 
Mitch posted images of the handmade desks online, sharing his excitement around the project. He told The Dad that the next day he was met with "hundreds of messages from people all over the world" expressing their gratitude and appreciation. And their praise is well deserved! Mitch's efforts have eased the stress of families struggling to find their virtual learning groove, not to mention the fact that 35 lucky kids can now study from their very own desks! 
So, we're sending a big thank you to Mitch and the entire Couch family. Your kindness has not gone unnoticed. We're still smiling thinking about all the happy students setting up their new workstations for class!