Tyler Perry surprised shoppers when he covered grocery expenses for thousands during senior and high-risk store hours. While thousands of Americans stay home to fight COVID-19, many are facing financial hardships as a result of unemployment. With so many struggling to feed their families, Perry's generosity was received with overwhelming gratitude during a time of great need.
The story began at Winn-Dixie locations across Louisiana where, according to WDSU News, customers reported receiving a note that read, "Random Act of Kindness." Upon arriving at the checkout, they found their groceries paid in full.
An NBC News report stated that Perry paid for shoppers' groceries at a total of 73 store locations, 29 of which were Winn-Dixie stores across his home state of Louisiana. The remaining 44 were Kroger stores within the Atlanta area where Perry began his acting career. All payments were made specifically benefiting senior and at-risk customers. 
Both Kroger and Winn-Dixie supermarket companies applauded Perry for his kindness on their Twitter accounts: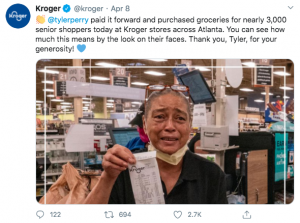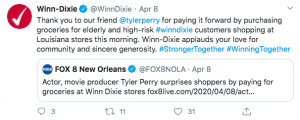 Grateful community members headed to social media to share their experiences and gratitude as well:

This was not Perry's first act of kindness. According to a report by WSB-TV2 Atlanta, the actor "left a $500 tip for every single out-of-work server at Houston's restaurant on Northside Parkway," totaling at $21,000 towards further supporting the Atlanta community during the COVID-19 health crisis.
Perry's commitment to leading by example during these unprecedented times is an inspiration to us here at City of Kindness. While we recognize that everyone's circumstances are unique and not everyone can afford to make such a financial impact, it's important to be reminded of what a difference kindness can have. Thank you, Tyler Perry, for your generosity and thoughtfulness. We're all in this together.