An Australian boy named Corona De Vries became pen pals with actor Tom Hanks, receiving a letter and gift from Hanks after a heartwarming turn of events. 
It's a tough time to have the name Corona. Unfortunately, as a result of COVID-19, 8-year-old De Vries was being bullied by kids at school. Upon learning that Hanks and his wife had contracted the coronavirus, the Toy Story fan wrote a letter to Hanks, sharing his recent experiences.
De Vries wrote, "I heard on the news you and your wife caught the coronavirus… are you okay?" He went on to explain that, while he loves his name, he was having a hard time with the kids at school calling him coronavirus. "I get very sad and angry when people call me this," De Vries explained.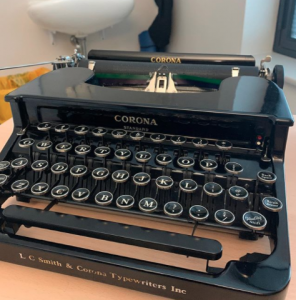 You can imagine De Vries's excitement when he received a response from the actor shortly after. Not only did Hanks take the time to sit down and type up a letter to send back to De Vries, but he also sent the boy an old typewriter, branded 'Corona.' 
In his response, Hanks shared that he and his wife had recovered from the virus, but that De Vries's thoughtfulness had made them "feel even better." The actor went on to say, "Thank you for being such a good friend – friends make their friends feel good when they are down."
At the end of his letter, Hanks explained that he had used this typewriter while he was sick in Australia, stating, "and now it is back – with you," telling De Vries to, "Ask a grown-up how it works. And use it to write me back." Hanks signed the letter, reminding the young boy, "you've got a friend in me."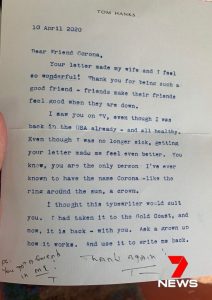 According to 9 News Australia, De Vries was overjoyed upon unwrapping his new gift, exclaiming, "It's awesome because it's so old it must have belonged to someone before they gave it to Tom Hanks."
Hanks is no stranger to random acts of kindness and has been known to go out of his way to share a smile with his fans. Reaching out to De Vries was especially touching, given the great need for compassion and support during these difficult times. Thank you, Tom Hanks, for taking the time to remind a young boy that he is not alone, reminding us once again that we are all in this together.