This week's kindness spotlight goes out to Shreve Elementary fifth-grader, Andi Musser. Motivated by the realization that some of her classmates couldn't afford new clothes, Andi started a 'Kindness Closet' at her school.
Starting the Kindness Closet
When her friend shared that she wore her brother's hand-me-downs, Andi wanted to help. According to an article by The Daily Record, Andi said, "I went to my closet and got the clothes (and shoes) that I had outgrown… I gave them to her at school the next day. And she was really happy."
The experience inspired Andi to start a Kindness Closet. "She realized what a difference that made for her friend," said Andi's mother, Jessica Musser. "She asked, 'Can we do this for more people?' She took the initiative at that point." 
Andi's idea was simple: seek out clothing donations and create a sort of thrift store for students in need. Now all she needed was support, so she went straight to her teacher, Jennafer Flinner, who directed her to the principal. And of course, Principal Adam Stein was all for it, stating "She came to me, and I said, 'Yup, let's do it.'"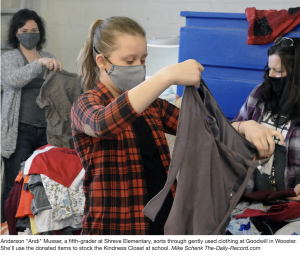 Although COVID-19 slowed progress on the Kindness Closet, once regulations started lifting and things were safe again, Andi didn't waste any time reminding Principal Stein of her plans. Stein was still enthusiastic about her idea and provided a space at Shreve Elementary that would work perfectly for her initiative. He even helped edit Andi's letter to local businesses seeking financial support and donations. 
Needless to say, Andi's hard work really paid off. After hand-delivering her letters, she received quite the response. According to The Daily Record, "To help Andi fill the Kindness Closet, Dick's Sporting Goods gave $50 in store credit; Everything Rubbermaid donated clothing hangers and shelving units; Goodwill Industries of Wayne and Holmes Counties supplied about 10 bags of clothing; Kohls provided clothing hangers; and Mission: Thrift will give $75 in store credit." 
What's Next for the Kindness Closet?
Andi has accomplished a lot this year already, but she's still got big dreams for the future. Her hope is to create a system that sustains the Kindness Closet so it can remain a resource to Shreve Elementary students in need. She even has dreams that one day, it will be big enough to support local students beyond her elementary school. Toward this goal, she plans to continue reaching out to new businesses and even community members for donations and support. 
According to Principal Stein, "It's great for Andi to see her vision come true. …Proud is an understatement, for sure. It's what every principal and parent would want for their kid to do – to put others first." And we couldn't have said it better ourselves. So thank you Andi, for putting your classmates first. We can't wait to see where the Kindness Closet takes you!